MailSaver Saves Apple Mail To Custom-Named Files
MailSaver saves Apple Mail messages to uniquely named files.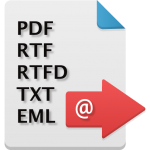 MailSaver automates the task of saving Apple Mail messages to custom-named files.
MailSaver controls Apple Mail with AppleScript to save one or a group of e-mail messages to a choice of file types – PDF, RTF, RTFD, TXT, or EML – each with filenames containing user-selected information extracted from each message. Save a message with a filename containing the message's Date Received, Date Sent, Sender Name and/or Address, Subject, and other message or system information. MailSaver also saves e-mail attachments, keeps a log of its actions, and does not alter or delete messages. User-set filename format and options are saved between uses.
MailSaver is a non-technical, simple-to-use utility to save Mail messages quickly and effortlessly!
Sit back and watch MailSaver use AppleScript to save all your Apple Mail messages with filenames of your choosing – for only $4.99!
A real-world scenario:
Like most offices, we use e-mail to correspond with clients, attorneys, courts, etc. In the past, preserving e-mails before removing them from Apple Mail as we archived cases was not a simple process. Apple Mail has a limited ability to save a batch of e-mails to the hard drive – it saves all selected e-mails to one file instead of to individual files. Apple Mail can save individual e-mails to single files, however, meaningful filenames cannot be easily  assigned to each file. For example, a meaningful filename for me starts with the e-mail's Date Received, in SQL format (YYYYMMDD-HHMMSS), followed by the Sender's e-mail address and then the e-mail Subject line. The resulting files appear alphabetically when viewed in the Mac Finder and their filenames contain information about their content. This result is extremely useful. However, digging through every e-mail to get this information to manually compose each unique filename is not a productive use of time. MailSaver makes this process effortless and quick. 
MailSaver controls Apple Mail to save my selected e-mails to my choice of file types – PDF, RTF, RTFD, TXT, or EML – each with filenames formatted by me using my choice of information from each e-mail.
MailSaver-Auto (included with MailSaver) automates the previous MailSaver command without requiring user input..
Complete instructions are in the MailSaver Readme PDF.
View walk-through of MailSaver at work!
The filename possibilities are limited by your imagination!

Download MailSaver now for only $4.99 USD from:
– FastSpring.
-or-
– Digital River.
Now delivering MailSaver and MailSaver-Auto 1.5.
System requirements: Apple Mac OS 10.9 or later, including High Sierra (10.13), and Apple Mail.app.
Localized for English, Dutch, German, Spanish, French and Russian.